MUtable transforms from a design table into an all-in-one play table for children ages 1 through 8!
We are proud to help parents to enjoy at best their kids early childhood! [MU]table is thought for all parents who like beautiful things that are also functional.
Kids play tables are a must… but how difficult is it really to find a beautiful, functional and fun table that makes both kids and parents happy?
With [MU]table fun and organization CAN go hand-in-hand.
Designed in Italy, [MU]table's style is the design-oriented alternative to your child's everyday play table, but paired with the flexibility and durability of a table that will last your family for years.
[MU]table table and chairs come in five different colors, Mauve, Mint, White, Dove Grey and Tiffany, that you can mix and match according to your interior design style.
Not only do [MU]table chairs match perfectly with the table color of your choice, but they will also adjust to the four different heights with the table! You can add as many chairs as you wish with your [MU]table… they are optionals as we know that kids love to play in different ways!
[MU]table included 4 double-sided playboards that stack on top of each other.
All the following fun activities are INCLUDED: a blackboard and magnetic board, Base for Lego ® Duplo® and Lego® Classic, a city landscape playset and a natural landscape playset, a puzzle base and a wooden cover.
Plus, we have more play boards in the works!
Additional boards can be purchased separately in the future (not within the Kickstarter campaign), like a doll house, playdoh table, kitchen table, music table and more!
At the center of the table you'll find a hole with a bag attached. When playtime is over, toys can be thrown in the bag under table, keeping your home organized and clean while still being fun. When your kids want to change game they just need to flip the playboards and change bag.
[MU]table is 71.6cm large and each playboard has a diameter of 54cm. Here you also find a table with all possible heights you can adjust your [MU]table and chairs to!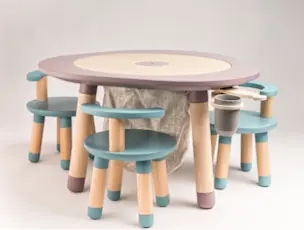 More info here: MUtable
Thanks for reading,